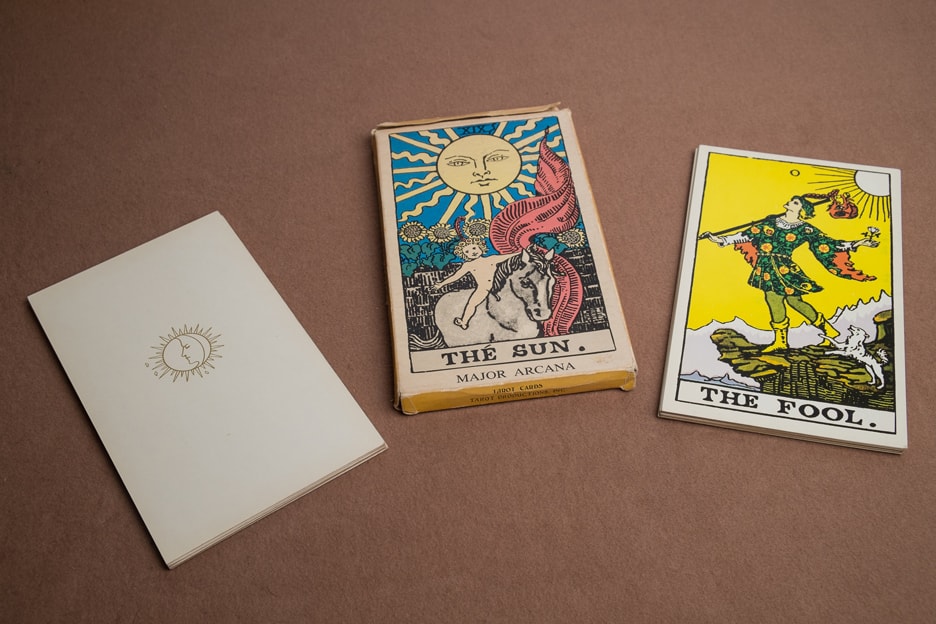 Tarot Productions' Giant deck
We don't have a proper title for Frankie Albano's "giant deck of tarot trumps" because there are no known Tarot Productions catalogs left to reference (but we do have one of University Books, inc.'s). So most of us generally call it the giant deck, the giant "major" Arcana deck, the giant trump deck, or just the giant 22-card deck. Either way, this was a shining example of the "first-to-market" principle in manufacturing and design. This is more of a teaching tool or an advertisement (think "window display") than a deck you use for divination, but these cards can effectively be shuffled, with proper care.
The backs of these cards have a well-known sun/moon combination image that depicts a solar eclipse, which is in fact a "perfect alignment" (north/south and east/west), which has especially potent meanings on several levels in alchemy and advanced metaphysics; far beyond the more popular (and obvious "full moon" which has the sun and moon pulling on the earth like a tug of war between two parents). The corners of this deck are purposefully squared (unlike USGS's "giant deck" which came much later of course), and this makes a powerful statement that these are not just another oversized deck of cards.
The box we have at the research library has the words "This box includes fully illustrated instruction book" emblazoned on the back of the yellow box in capital letters—in a large font so you won't miss it! Unfortunately, this box also has "box color-matching tape" professionally applied to cover up those words, and no instruction booklet. I have never seen (or heard of) a Tarot Productions that would fit this box, but we do have this. That booklet may have accompanied this deck instead of a "giant LWB" being inserted into the box. As a point of fact the box this deck comes in "could fit" a thin booklet, but nothing as thick as the "TP XLWB."
Also, the deck we have is a "Deluxe Edition" and therefore is most likely a "second or later" run, as it is generally assumed among the research community that the "Accurate Color Tone" decks preceded the "New Color Deluxe Edition" decks. Supporting this idea is the fact that at the time of this printing TP was using a P.O. box instead of one of their two physical addresses. In any case, here are images of each card in the deck, with a dollar bill in each to give scale. Also you will see both sides of the box, and the words that are hiding under the tape. More information will be posted here as we retrieve it from obscurity. Don't forget to check out Tarot Productions, Inc.'s various boxes.
Other Frankie Albano creations
Frank R. Albano (a.k.a. Tarot Productions, Inc. of Hollywood circa 1968) created a few things we know of with certainty, and some things we are still researching. Facts first, then fun stuff (links lead to item-specific pages):
1967 Tarot Wheel
1968-ish Trumps only 22-card deck
1968-ish Tarot Productions miniature deck
1968 Tarot Productions PKTT/*LWB