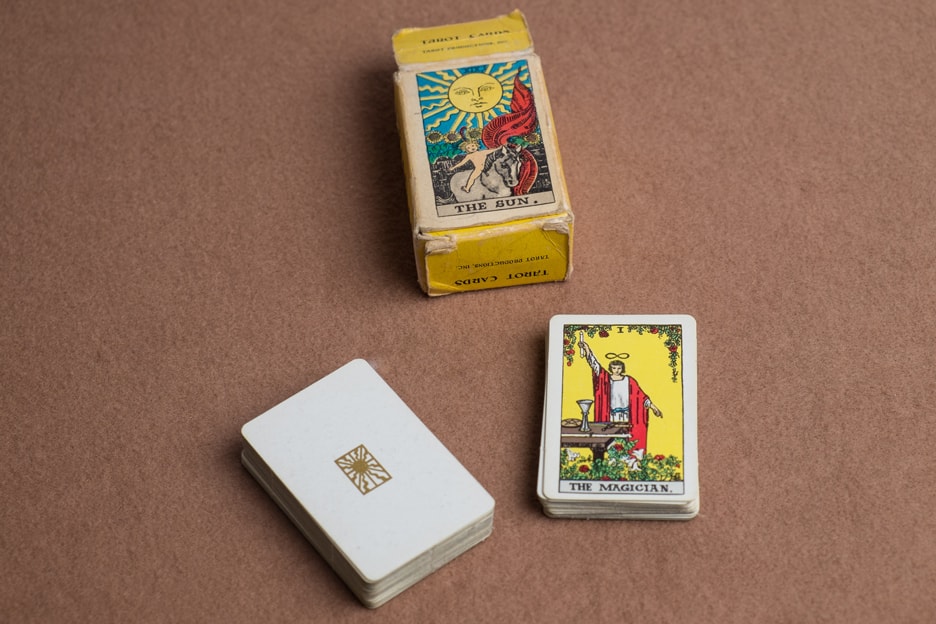 Tarot Productions' miniature deck
I want to give Frankie the credit of producing the world's first "miniature" deck (circa 1968/1969) but Merrimack Publishing may have split from University Books, Inc. before 1968/69 and if they did, they may have published The World's Tiniest Deck before Frankie either got the idea (or) got to market. Either way, this miniature Albano — Waite® deck set the stage for later "miniature" decks by USGS and other major playing card manufacturers.
Unlike TWTD (above) you can actually shuffle these cards if you have small hands, or are very careful. The quality of manufacture is actually quite high, something that cannot be said for TWTD, which, at about half the size of this deck is great as a novelty, or for use when you have to smuggle your cards somewhere and you just don't have enough room for a miniature deck. The boxes I have seen do not mention whether it comes with a LWB (although the TWTD comes with something like a LWB), and no known "tiny LWBs" from Tarot Productions or Frankie Albano exist. I will update this information if anyone has photographic proof. Other than the size, this deck is exactly like its larger counterpart. There are no extra cards and the card backs are the same as the standard sized Albano — Waite® deck. This deck came in both editions (A"Accurate Color Tones" and the "New Color Deluxe Edition"), so it had more than one print run and at least two editions.
On the right are a few images of the miniature version of Tarot Productions, Inc.'s miniature version of their deck. Unlike TWTD by Merrimack Publishing, and later B. Shackman, these cards do not have suggested meanings printed on them. Tarot Productions never made a deck with word printed on the faces of the cards. Also, Tarot Productions never put out a 22-card miniature version of their tarot deck.
Other Frankie Albano creations
Frank R. Albano (a.k.a. Tarot Productions, Inc. of Hollywood circa 1968) created a few things we know of with certainty, and some things we are still researching. Facts first, then fun stuff (links lead to item-specific pages):
1967 Tarot Wheel
1968-ish Trumps only 22-card deck
1968-ish Trumps only 22-card GIANT deck
1968 Tarot Productions PKTT/*LWB